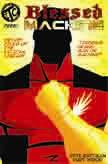 Hey, all you tabletop role playing gamers, you know what
GaryCon
in Lake Geneva is, right?
Well it's happening again
March 14th-17th, 2013
, and among the awesomeness will be the debut of a completely new campaign setting and/or supplement for HERO called
CROSS
, the clandestine spy agency known as the
C
atholic
R
esponse
O
rganization to
S
trategize and
S
trike, an organization that secretly fights evil for the good of Christianity using cutting-edge technology coupled with powerful prayers honed over two-thousand years of history.
CROSS
is published by Pete Ruttman's
BlessedMachine
.
If you haven't checked it out yet, I recommend you head on over to
BlessedMachine
and get the scoop on this new take and see what's in store for players at
GaryCon
. Pete's put a lot of creative work, thought and time into getting this into shape, and is really hoping to see some smiling faces there. He's a good guy and always welcomes feedback, so stop by, chat him up and get yourself a seat at
CROSS
and become part of
BlessedMachine
, if only for a few sessions (so far)!